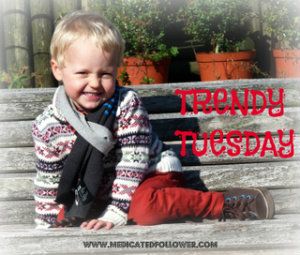 Happy Tuesday all! It's time to link up and show off your trendy children :)
Since Ethan started preschool (and gave up nappies almost a year ago) I have been struck by the fact that his outfits need to be easy for him to deal with. If he's to take himself to the loo and be independent he needs to be able to undo trousers and belts.. and quickly!! We all know how children have the habit of putting off that visit to the loo until the last minute and if they can't get out of their clothes an sat on it in a matter of seconds then you have an upsetting accident on your hands.
Generally, I've dealt with this by sending Ethan to preschool in easy to pull up and down tracksuit bottoms. However, he has a draw/wardrobe full of jeans and other trousers that hardly get a look in now and need wearing. I tried sending him in in a pair one day, but due to his little waist I had to use a traditional belt. That day, when I picked him up, he was wearing his spare leggings because he'd had an accident trying to get to the loo in time. I felt really bad. No one wants this for their little person! So, it was back to the trackie bottoms.. Until now!!! I discovered
Easy Belts
online and was offered the chance to try them out and review them on the blog. I'm always happy to find a new product and to bring it to the attention of my readers - very often we are all struggling with the same issues so it's nice to find a solution and share it with others!
Easy Belts
were designed by Mum Kay Heffernan when her 4 year old son was struggling with using traditional belts. She noticed that he was able to attach his boogie board lead (which fixes with Velcro easily and the thought occurred to her - how about a Velcro belt that children could manage themselves?! The rest is history!
Easy Belts
have a Velcro strip which replaces the traditional buckle-pin mechanism. The Velcro strip slips through a D shaped buckle and folds back on itself to be fixed in place and staying securely fastened. The great thing about Easy Belts is that they aren't just fantastic for children, they are brilliant for anyone who struggles with a traditional belt, especially anyone with a disability or perhaps the elderly.
Apologies for the image quality - Ethan was refusing to stay still!!
Jeans - H&M
So. How have we found the
Easy Belt
? Well, we've been using them for a couple of weeks now and we really love them. They have breathed a new lease of life into Ethan's wardrobe. He's been getting a lot more use out of his jeans and other trousers. I've sent him off to school wearing one and he managed the day there using the belt with no issue. He loves wearing the belt (he's quite into his accessories ) so I've had no problem encouraging him to wear it. I let him choose which design he wanted, he went for a pink one which I think looks fantastic with his colourful clothes (there are quite a variety of belts to choose from). I think he still needs a little help with the belt, often he forgets that he's wearing it and just tries to yank his trousers down, but it's very early days and he's not yet 4. I have no concerns he'll have it sorted soon! The black belt we were sent is going to be invaluable when he starts "big" school in September. I LOVE the fact that these belts increase his independence. I can say hand on heart that this is the only belt he has a hope of using without help. I think the price is very reasonable as well!! So, Easy Belts get a BIG thumbs up from us!
On a slightly different note, I have a new favourite photo of Ethan! I love this one from a couple of weeks ago (he was wearing the Easy Belt but you can't see it!). He asked if he could wear one of my scarves "tied in a big bow" and then struck a pose. Cute! It's a shame the photo isn't clearer but unfortunately I only had my phone to hand...
Now it's over to you - what have your little trendies been rocking this week? Link up using the linky below!
The Rules:
- Please link to my blog in your blog post and display the Trendy Tuesday badge (this can be obtained on my sidebar)

- Please visit others who join in and don't forget to comment (here as well!), that way we all benefit!

- Tweet me your link (@MedicatedFollow) so I can RT it!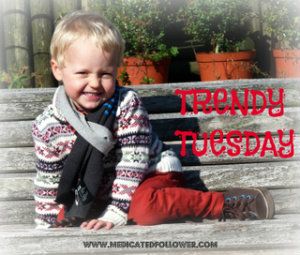 **Easy Belts retail from £6.00 and are available in a variety of colours. I have not been compensated for this blog post but we were sent two belts free of charge for the purpose of review. All views expressed are my own**