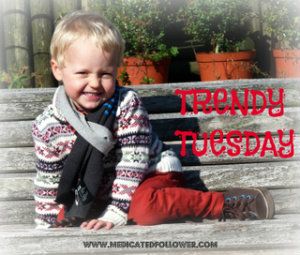 Do you remember my EasyBelt review from a couple of weeks ago? If not, you can get acquainted with it
here
. Well, today I have something exciting for you! A giveaway! The lovely Kay, founder of EasyBelts is offering up 4 EasyBelts to be given away to my lovely readers!! That's 4 chances to win! You get to choose any size and design of belt as well so this is a really fantastic giveaway.
All you've got to do to be in with a chance of winning is to us the Rafflecopter form below. There are only a couple of mandatory parts, the rest are optional but will give you a greater chance of winning!
As this is Tuesday, I'll share a few photos of my gorgeous little man - I hope to see a few of you linked up today showing off your fashionable little ones. The linky has been very quiet of late which leaves me wondering if it's worth continuing with, but the thought of ending it makes me sad.. so for now, it stays, but I really do need your help in advertising it and joining in with it. Honestly, it makes me week when I see people linked up!! Please don't forget to leave a comment on my blog though! Nag over...
We visited Dunster Castle at the weekend, a lovely National Trust property. It was the first time we've taken Ethan there, though I've been there many times over the years. So, here's Ethan having fun at Dunster:
Jacket - Sam & Jo via TKMaxx
Jeans - Asda
Boots - Lidl
Hat - Hjorn Horth (a Danish brand I can never find a link to!!)
Well, If you're joining in with Trendy Tuesday this week, here's the boring bit:
RULES:
1) PLEASE link to my blog in your blog post and/or display my badge on your blog.
2) PLEASE leave a comment on my blog post & visit others who join in - share the love!
3) Tweet me @MedicatedFollow with your link & I'll retweet it to my followers
Thank you!
a Rafflecopter giveaway