Brrrr... Autumn is in the air and Ethan and have pulled our blazers out of our wardrobes! Today's photos are from Sunday. We didn't get up to much, just a very quiet day visiting family. You can still look trendy even when nothing much is going on though!
I've featured this blazer and these jeans on here before, but they are favourites of ours and deserve another showing!
I had to include a photo of Ethan pulling his "sad" face!
Blazer & jeans - H&M
T Shirt - Store 21
Trainers - Convers
Striped jumper - £5.99
T Shirt - £3.99
Striped top - £1.99
Fleece - £5.99
All H&M
Last week I was really inspired by Emma from
They Grow So Quick
last week with her gorgeous bright H&M buys. So inspired I had to order a few for Ethan. I bought age 4-6 though because he has everything he needs at the moment, and I always buy ahead! All accept this cute fleece though, for £5.99 I thought it was brilliant value. Ethan's rain coat is lovely, does the job, but it's quite thin. This will be just the thing to keep him cosy underneath and is great for Autumn (and Spring) as well. He wore it to Pre-School today and looked so cute.
***Edited to add***
As of today, I will be taking over the Trendy Toddler Linky. Maria has given me her blessing to take it over as she is too busy at the moment. I want to give a massive shout out to her though, she is one of my closest blogging friends, I truly consider her a friend. She is always here to give me a helping hand and advice. She has been a great help to me. I am honoured to take on this linky from her and I don't want it ever forgotten that Trendy Toddler Tuesday was Maria's creation. I do hope that people will continue to join in with the linky. Chances are, if you are a parent blogger, you know other parent bloggers who would like to show off their trendy offspring, so spread the word, blog about it, join in, tweet others etc. It all helps! Let's not let Trendy Toddler die off!! So. Trendy Toddler will continue to be held on a Tuesday, but it'll be over here on my blog. All the usual rules will apply. Link your blog post to mine, tweet your links so I can re-tweet them. I'm in the process of designing a new badge which I would really appreciate people displaying if they take part.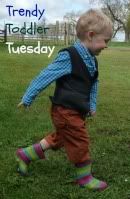 Thank you all those taking part, it means a lot to me and Maria.